Waterstream Deployment Overview¶
Typical deployment of the Waterstream looks like this: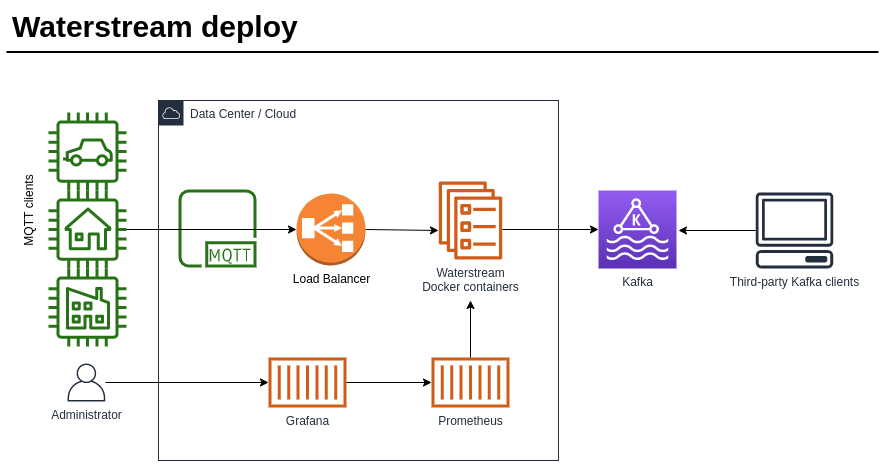 Multiple Waterstream nodes (typically running as Docker containers, JAR may be provided on demand) are running behind the non-sticky load balancer. MQTT can connect via the load balancer to any Waterstream node, and in case of the connection disruption - re-connect at a later point to any other node while maintaining its session state (in-flight messages, subscriptions etc.). All Waterstream data is persisted to the Kafka or other compatible streaming platform - no persistent volumes needed for Waterstream nodes, any node can come and go at any time together with its disk content.
Waterstream nodes expose metrics which can be collected by Prometheus and displayed in Grafana as a dashboard.
Waterstream needs to check a license when it starts. There are 2 options here - either a license file or AWS Marketplace subscription. You can request the development license at https://waterstream.io/try-waterstream/ or sign up for AWS Marketplace subscription at https://aws.amazon.com/marketplace/pp/prodview-x4fnyp54socdw .
You can create Waterstream deployment scripts from scratch (see Waterstream Configuration for the complete list of the configuration parameters) or start from some of the readily available and adapt them for your needs - we'll make a brief overview here.